Patient-Centered Medical Home (PCMH)
We are your…Patient-Centered Medical Home!
Patient-Centered Medical Home (PCMH) is not a place… It's a partnership with your primary care provider at Waikiki Health.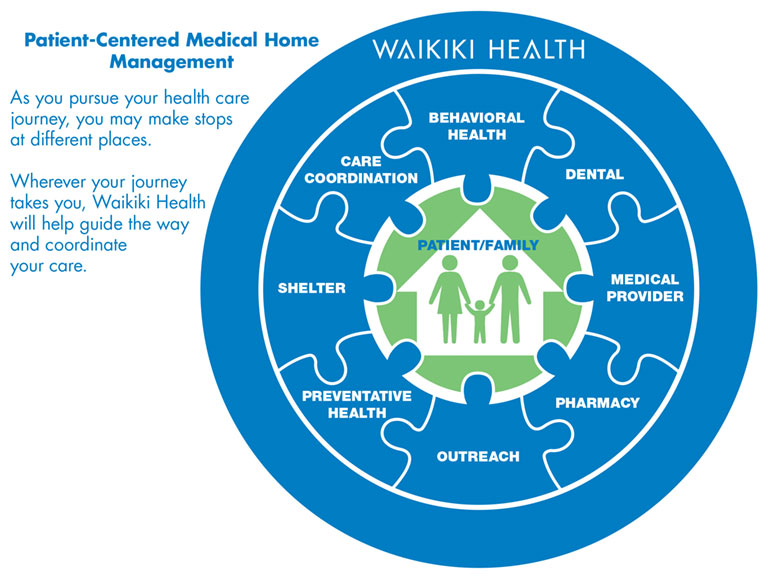 We are committed to provide you with the best medical care based on your individual health needs. The PCMH offers a high standard of service through new technologies like our patient portal. We encourage you to register for our PATIENT PORTAL where you can communicate directly with your provider, request prescription refills and review your health records. Please see the front desk patient service representative for registration information.
Healthcare studies show that the Patient-Centered Medical Home model:
Provides better communication and support for you as the patient
Creates a more meaningful and stronger relationship between you and your healthcare providers
Saves you valuable time, especially when you use our secured PATIENT PORTAL to communicate with your doctor
Allows you to review your personal medications, which helps you to understand and monitor the prescriptions you're currently taking
Provides you with hands-on coaching, which helps you follow your healthcare plan and encourages you to meet your goals
Gives you valuable support and encouragement from other peers in your community who have similar health issues and like-experiences
Encourages you to create personalized care plans that you design (along with your provider) that address your specific health concerns
The PCMH recognition program follows a set of comprehensive standards created and monitored by the National Committee for Quality Assurance's (NCQA). The PCMH model helps to effectively facilitate partnerships between patients and their personal physicians, and when appropriate, helps also to facilitate partnerships that include the patient's family as a support team. PCMH ensures consistent quality and a continuum of ongoing care through integrated health care monitoring systems, along with the meaningful use of electronic health records and care management. Waikiki Health's Ohua Clinic, Makahiki Medical & Dental Clinic and Care-A-Van Clinic has achieved Level 3 PCMH Recognition.
For more information on Waikiki Health's performance results, please CLICK HERE.